The Helvetia Lavender Festival
July 6th, 7th and 8th | 9:00 am - 4:00 pm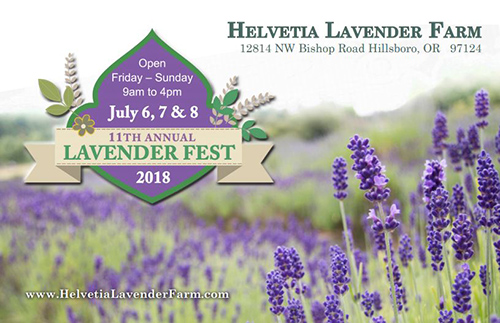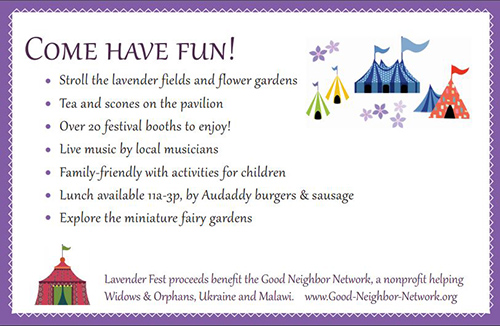 A truly festive occasion featuring all things lavender in beautiful, historic Helvetia.
Smell the scent of lavender while cutting fresh bouquets.
Enjoy tea and scones with fresh berries in the pavilion.
Listen to live music performed by local artists.
Visit over 20 artisan booths and chat with the designers.
Watch lavender distillation, shop for essential oils, soaps and other lavender products, and buy lavender plants with advice on growing from the experts.
Festival supports widows in Ukraine through Samaritan Ministries, GS Malawi, and Widows & Orphans.

---
2018 Vendor Booths Feature:
Agnes and Dora by Grace: fashionable ladies wear with a classy flair! By Grace.
Art by Izzy Rock & Z and T Creations: paintings and signs
Beadzles: Jewelry, uniquely individual, by Rhonda Whetsell.
Creations of Art: unique natural home and yard décor by Janice Hattenhauer.
Cuqui's Artisan Cards: Asian greeting cards by Cuqui.
Denny's Workshop: mixed media art by Denny Nkemontoh.
Folk Art paintings, garden flags, wood spoons, collages, cards and dyed handbags by Shelley.
Family of Lavender: handmade glass vases/candles, scarves, tea towels, aprons, lip balm, etc.
Glass birdbaths and Feeders along with dream pillows by Eleanor.
Helvetia Lavender Farm: gift shop: lavender décor, culinary products, gifts and more.
Helvetia Lavender Products: foamy and bar soaps, essential oils, etc. by Nicole.
JoAnns' Glassworks: fused glass creations for home décor and landscape.
Krelly Designs: unique artisan jewelry, art & gifts.
Lunarcat Studios: handmade orgami ornaments and Asian-inspired crafts by Carolyn.
Marvelous Mosaic Fine Art: stained glass mosaic art by Kory.
MeeMee's Goodies: gourmet fruit spreads and frozen fruit pops by Melissa.
Nothing Bundt Cakes: bundt cakes.
Photography in the Lavender Fields: by Jennie
Plum Deluxe: organic loose leaf tea blends by Andy.
Pottery: for sale and demonstration on wheel by Aubrey.
Tea and Scones: on the deck by Ken and Ronnette.
The Lavender Shop: culinary and bath/body products by Amy.
The Soap Saint: soaps, lotions, bath fizzy, lip balm and much more by Brandi and Ian.
VanHevelingen Nursery: a variety of plants for sale by Andy and Melissa.
Watercolor art prints by Lieselotte PeeterwWeem.
Watercolors by Anji: recognized watercolor artist, Angela Grainger will demonstrate plein air techniques.
Wood Grain Crafts by Kathy.
Sorry, no pets allowed. We Love them but our insurance company doesn't.
Parking is plentiful. Come enjoy a day out with us!

Google Map & Directions